9,445,422 …
That was the number of Instagram "likes" Beyoncé's pregnancy announcement has garnered in two days.
Artists and art historians tend to dismiss "popular culture." There is a firm (and arguably false) belief that the "masses" lack the ability to appreciate nuance. Therefore popular film, art, music, architecture, and literature etc. intended for wide audiences is considered banal and superficial.
I disagree. The font of creativity and human understanding is boundless.
Whether you like her music or not (I should note here that I am a devoted member of the "Bee Hive")-Beyoncé is a pop icon. Arguably, she is the cultural icon for the millennial generation.
With each album, each music video,  Mrs. Carter Knowles raises the proverbial stakes. Like her dance moves, each step in her career has been flawlessly (I couldn't restrain myself) choreographed and curated. Her music and sound has grown with her listeners. Though she does not abandon "dance hall chart toppers" like Single Ladies and Survivor, Beyoncé has used her craft to provoke her audience to think, to question,  and to learn. 2016's Lemonande is the ultimate example, exploring all the intellectual quagmires: race, female sexuality, and, at the risk of sounding trite-love.
Yesterday's photo announcement of her pregnancy is yet another example of the artistic intelligence of Carter Knowles .
Artist, Awol Erizku, has often used his work to explore the multidimensionality of a collective black identity. In one such project, a series of photograph portraits, aims at dismantling the white-wash in the Western canon of art history by portraying contemporary black people as the modern-day doppelgängers to works by "The Great Masters"
Awol Erizku continues in this social dissection and reinterpretation through classic artistic aesthetics with Beyoncé. Acting in the "tried and true tropes" of "women in art", Beyoncé is not "copying" the great work but dismantling and recreating it by challenging the ideals of motherhood, race, femininity, and (dauntingly) beauty.
By adopting the graceful forms of Renaissance artist, Sandro Botticelli, Beyoncé and Erizku not only create a "pretty picture" but provide many who have never heard of Botticelli, a new visual and intellectual fluency.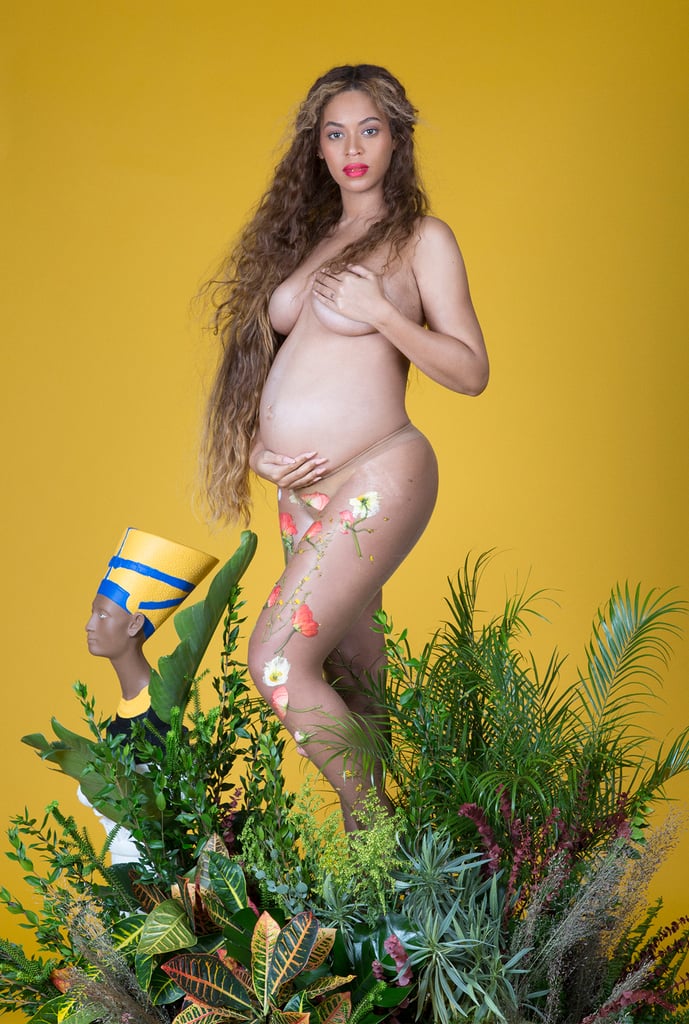 Beyoncé's tumbling locks and modest pose appear to be an homage to The Birth of Venus. A visually pregnant rendition of the Goddess of Love brings the two opposing sects of femininity common in art together: the "sex object" (the erotic womanly form) and "the virtuous mother."
In another picture, plentiful flora and surreal colors are reminiscent of Botticelli's lazy figure of Venus in repose. Beyoncé's daughter,  Blue, takes on the role of modern-day putti (or perhaps a mischievous eros!).
Slightly more serious images cast Beyoncé  not as the Goddess of love but as another feminine symbol, the Virgin Mary. Like Botticelli's Madonna del Magnificat, a whimsical headdress crowns the pop star, testament to that hallowed virtue of motherly love she shares with the mother of Christ.
Whether or not you like the portraits,  Awol Erizku's photographs, are  a million intellectual miles away from a pregnant celebrity announcement on the cover of US Magazine or People's …
grazie dios

!